North Shore Community School Preschool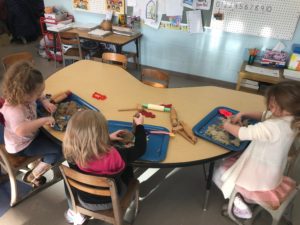 North Shore Community School Preschool is a program that:
Supports the development of the whole child through play-based learning led by licensed Preschool Teacher
Serves children, 3 - 5 years old

3 years old are able to attend one half-day Friday mornings. Students applying for the Friday morning program must be 3 years old before September 1 and fully toilet-trained
4 - 5 years old have to option of attending 2 or 4 half-day sessions or 2 or 4 full-day sessions each week.  Students applying for the 2 or 4 day sessions program must be 4 years old before September 1  and fully toilet-trained

Operates September through May
Emphasizes learning through playing indoors and outdoors
Gives children the opportunity to develop a lifelong connection with nature with access to a nature trail and 4 outdoor classrooms
Has access to a geothermal greenhouse offers year-long learning opportunities in growing plants and food
Helps children prepare for kindergarten with scheduled time with music, art, physical education and environmental education specialists
Pay your Preschool Fee Online @ SchoolPay
NSCS Preschool is a 4 star Parent Aware rated program!
Parent Aware is Minnesota's voluntary rating system for early childhood programs, including those in centers, homes, schools, and churches. Programs that participate in the Parent Aware rating program are going above and beyond the basic licensing requirements by taking additional trainings and developing curriculum and family support systems that research shows lead to children's success in future schooling. Higher levels of rating also mean more state and county scholarship support is available to help each family pay for preschool. Learn more about what the star levels mean: http://parentaware.org/learn/stars-defined/
Contact us today at 218-525-0663 ext.106 to learn more or to enroll your child.
North Shore Community School Preschool Enrollment Form and Tuition Information:
Preschool Enrollment Application 
Early Learning Scholarship Application