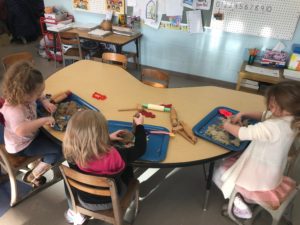 North Shore Community School (NSCS) provides a caring, sharing preschool experience for children ages 3-5. We promote kindness, creativity, and inclusion through whole-child development. As an environmental charter school, the children have access to the beautiful school forest and geothermal attached greenhouse where we spend a lot of time exploring.  Natural elements are a part of our learning experience, which flows into our classroom environment.
NSCS preschool program:
Has a 4 star Parent Aware rating
Serves 3-5 year old children- must be 3 by September 1st and toilet trained
Helps children prepare for kindergarten
Connects students with the natural world through nature-based play and experiences
Offers options that will fit your family's needs:

half day programing 2,3 or 4 days per week, from 9:00 a.m. to 12:15 p.m.
full day programing 2,3 or 4 days per week, from 9:00 a.m. to 2:45 p.m.

Each schedule option has a monthly tuition charge as well as a one-time non-refundable registration fee of $25.00.
Operates September to May
Scholarships are available for families who qualify – click the link for more information http://parentaware.org/provider/26869/
For more information, please call 218-525-0663 ext. 106.
Current Preschool parents should note that preschool children must go through the enrollment process to have their children attend Kindergarten at NSCS. Enrollment is not automatic for children currently attending NSCS Preschool.
NORTH SHORE Preschool ENROLLMENT FORM: