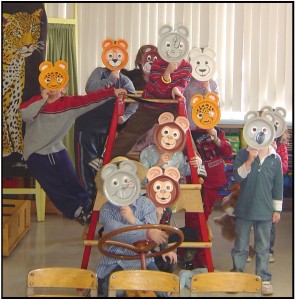 "With you they have found security; now they step into a wider world."
NSCS Play and Learn is a caring, sharing learning experience for children age 3-5. Through guided free play and directed work activities in large and small groups, children have many opportunities for enjoyment and growth. Learning centers, indoor and outdoor motor activities, story telling, music, sharing, and parties are included in the program. Students interact with NSCS students during "Reading Buddy" time.
Class offerings for 3, 4, and 5-year-olds are as follows:
Monday -Thursday
9:00 am-12:00 half day or
9:00 am -2:30 pm full day
Registrations for Play and Learn at NSCS are now being accepted. A monthly tuition is charged, as well as a $30.00 registration fee and a $25.00 supply fee. For more information contact: Tina Podemski at 218-525-0663 ext 106.
Play and Learn parents should note that Play and Learn children must go through the enrollment process to have their child attend elementary school at NSCS.  Enrollment is not automatic for children currently attending North Shore Play and Learn.
NORTH SHORE PLAY and LEARN ENROLLMENT FORM: