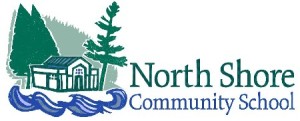 North Shore Community School (NSCS) is a rural charter school nestled in the woods near the north shore of Lake Superior approximately half way between Duluth and Two Harbors.  Established in 2002, the school serves approximately 346 students in grades kindergarten through six.
NSCS' mission is to excel in connecting our students' academics and learning with their natural and social environments in a nurturing community setting.  This mission is driven by four core values:
Kids First: Students' diversity and needs drive decisions and actions
Partnership: Together we achieve more than alone
Knowledge: Skilled in accessing, navigating, and using a broad array of facts and viewpoints from a global perspective
Stewardship: Care and responsibility for our natural and social environments
*The NSCS  Board of Directors meetings typically are the 4th Monday of the month at 5:30 in the NSCS Library. Always check the calendar for any changes.
Monthly meetings are typically rescheduled to the third Monday of the month if school is not in session on the fourth Monday of the month.