North Shore Community School Food Service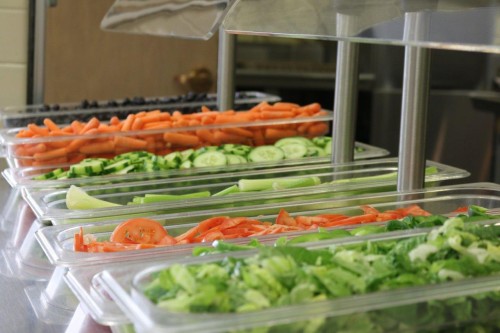 Lunch Prices:
Grades K-6...................... $2.40
Reduced......................... FREE
Free.............................. FREE
Adults............................ $4.00
Milk (each).................... .50
Breakfast Prices:
Grades 1-6..................... $1.00
Kindergarten................. FREE
Reduced......................... FREE
Free................................ FREE
Adult.............................. $2.00
Milk (each)...................... .50
Free and Reduced Price Meals:
Breakfast and lunch meals are available to students regardless of income. Students may qualify for free or reduced price meals. Application forms for free and reduced-price meals are mailed with the back-to-school packets and can also be obtained from the school office. Families who previously qualified for the free and reduced price meals program must complete a new form within the first month of the new school year or meal benefits will be discontinued. Anyone may apply or reapply for free and reduced price meals at any time during the school year. This could be based on an increase to the size of your household, a decrease in household income, unemployment, a newly placed foster child, or approval for MFIP, Food Stamps or FDPIR benefits. Complete information on free and reduced price meals can be obtained from the food service department.
*NEW* You can now apply for Free and Reduced lunches online!  LunchApplication.com For more information and instructions see document  below.
Free and Reduced Price Meals Application

Breakfast Program:
Breakfast is served from 7:40 a.m. - 8:00 a.m. Students who want breakfast should come directly to the cafeteria in the morning when they arrive in the building. They should not go to their lockers or classrooms first. This is the most efficient manner to get them through with breakfast and to their classroom on time in the morning. Through state and federal funding, breakfast is free to students qualified for free and reduced lunches.
Purchasing Meals:
NSCS uses a computerized system to record meal and milk purchases. It is a prepay system in which money should be in student accounts in order to receive a meal. Funds can be deposited into accounts daily in the cafeteria. Accounts are maintained by individual child accounts, not family accounts. Sibling accounts cannot be shared. One check may be written per family but please indicate how much money to put in each child's account. Make sure all funds are clearly labeled with amount and account names, we prefer that you pay by check. Parents/guardians must monitor account balances to make sure there are enough funds in your accounts at all times. Bills are not sent but when funds are low students may be verbally notified, given a note from the computer check off person when receiving their meal or notified by an automated alert phone call. Charging is strongly discouraged! Students with a negative balance may be served a "SunButter" sandwich and milk at no charge instead of the regular meal. You may also access your child's account online. Contact the Food Service Department for more information.
Offer versus Serve:
NSCS participates in "offer versus serve" for Enhanced Food Based Menu Planning. Students may decline one or two of the five required food items offered for lunch daily; students have the option of which items to decline. They may decline one item for breakfast.
Meal and Milk Substitutions for Medical or Special Dietary Reasons:
As a sponsoring authority of USDA nutrition programs, NSCS is required to provide substitutions or modifications of menu items for participants with disabilities. Participants requiring changes must provide a signed statement from a licensed physician. Complete information on special dietary needs can be obtained from the food service department.
Kitchen Rental:
Organizations and individuals will be permitted use of the kitchen for approved activities provided they comply with the "Rental Agreement." Complete information on kitchen rental can be obtained from the school office or the Duluth Township Rental Coordinator.
Contact Information:
To reach any of the food service personnel, please call (218) 525-0663 ext. 119. The fax number is (218) 525-0024.
Katie Hiivala
Food Service Coordinator
Hours: 7:30 a.m. - 3:30 p.m.
Jodi Lobbestael
Head Cook
Hours: 7:00 a.m. - 1:00 p.m.
PUBLIC NOTIFICATION:
This school participates in the USDA child nutrition program. In accordance with Federal Law and U.S. Department of Agriculture policy, this institution is prohibited from discriminating on the basis of race, color, national origin, sex, age, or disability. To file a complaint of discrimination, write USDA, Director, Office of Adjudication, 1400 Independence Avenue, SW, Washington, D.C. 20250-9410 or call toll free (866) 632-9992 (Voice). Individuals who are hearing impaired or have speech disabilities may contact USDA through the Federal Relay Service at (800) 877-8339; or (800) 845-6136 (Spanish). USDA is an equal opportunity provider and employer.